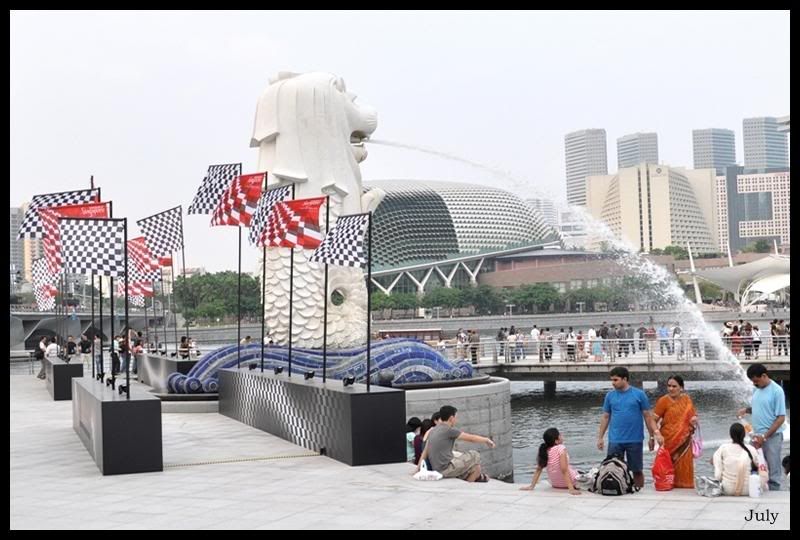 ေဖာ္ျမဴလာ၀မ္း ကားၿပိဳင္ပြဲမွာ စကၤာပူၾကက္ေျခနီ ရံပံုေငြအတြက္ ေစ်းေရာင္းတဲ့ေနရာမွာ လုပ္အားေပးအေနနဲ႕ အေရြးခံရေၾကာင္း ဒီေန႕ညေနမွာ စာ၀င္လာပါတယ္။ ဘ၀မွာ အေတြ႕အႀကံဳ အသစ္တစ္ခုအေနနဲ႕ ပါ၀င္ကူညီ ဆင္ႏႊဲလုိက္ပါအံုးမယ္ေလ။
စကၤာပူၾကက္ေျခနီက ပို႕လိုက္တဲ့ စာေလးကိုလည္း ဒီပို႕စ္မွာ မွတ္တမ္းယူထားလိုက္ပါမယ္။
~~~~

Dear Volunteer,
Thank you for your interest in supporting the Singapore Red Cross through the sale of Race Survival Kits for the upcoming Formula 1 SingTel Grand Prix. We are please to inform you that you have been selected to be a part of the sales team on the following days:
Confirmed date: Saturday 26th September 2009
Reserved date: NA
Due to overwhelming responses, we apologize if we are unable to assign you for all your selected dates.
Please be reminded that the duties and responsibility of the sales team include:
1. Selling of Race Survival kits at allocated areas/ zones
2. Assisting in moving of kits stocks/ sales logistics to allocated zones
3. Handling donations and payment for the Kits
4. Upholding the image of Singapore Red Cross Society
We will be creating your security passes for admission during the Race and we would like to seek your kind co-operation by submitting your digital passport size photo to susan.chua@redcross.org.sg by Friday 18th September 2009.