Today, around 1:30 somebody appeared to be a female jump track in Clementi MRT Station. She was appearing to be dead after SCDF (Singapore Civil Defense Force) people try to get the body out under the train.
I hope the train services will be resuming later. The on-site seers accounts the jumper is doing suicide but the source of this news is not confirmed.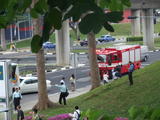 Warning : Following 2 photos contain body of victim.